Dr Paul explains why CoolSculpting in Dublin is overtaking liposuction.
Dr Paul details everything you need to know about the basics of CoolSculpting and all about our dedicated CoolSculpting Suite.
CoolSculpting in Dublin

CoolSculpting is our newest treatment. We have always been experts in anti-wrinkle injections and dermal fillers. We have always used the original Botulinum toxin formulation made by Allergan, right here in Westport, Co.Mayo.

Allergan – our main supplier and an innovative cosmetic company:

Allergan are the same company who make the most popular filler, market leader Juvederm.  In my opinion Juvederm is the best filler on the market.  The reason for this is juvederm has innovated where other fillers have remained static.  The Vycross technology that Juvederm incorporates means smaller hyaluronic acid molecules can give more structure thanks to Vycross cross linking. This means lumpiness is a thing of the past as well as the unsightly tyndell lines that are a feature of cheaper and older fillers that use larger chain hyaluronic acids.
Allergan's latest product is a fat freezing treatment which uses a phenomenon known as cryolipolysis! Worldwide there are 10 million treatments performed already.
Allergan Ireland purchased Zeltiq's CoolSculpting treatment for several billion dollars in 2017. This has become their latest offering in the cosmetic world and has grown like crazy.  To date there have been 10 million successful treatments performed – being FDA approved can put your mind at ease as a patient. It means that it works and is safe.
Permanent fat cell destruction.

Fat cells have a few funny characteristics that CoolSculpting takes advantage of.  These cells are not very cold temperature resistant. In fact if you freeze fat cells, between 20-29% of them will be permanently destroyed. That's right, you can expect for those cells never to return. This can be repeated until you have been sculpted to your desire.
CoolSculpting is an office based (non-hospital clinical setting), FDA approved treatment for permanent fat cell removal. The treatment is equally popular among men and women, although there are different considerations for each. We have a dedicated CoolSculpting page for men which you can access by clicking the hyperlink.

Liposuction is the traditional alternative to CoolSculpting but the downside to liposuction is danger, downtime and cost.  There are many cases of liposuction having disastrous outcomes as it is a surgical procedure with all the risks that entails. CoolSculpting is a more attractive, cheaper and safer option for removal of troublesome and stubborn areas of fat. The motto is – "If you can squeeze it, you can freeze it!". One really nice feature of the treatment is the lack of down time – unlike liposuction which requires general anaesthetic, often bruising and high degrees of tenderness, after a cycle or two, you're good to go about your business.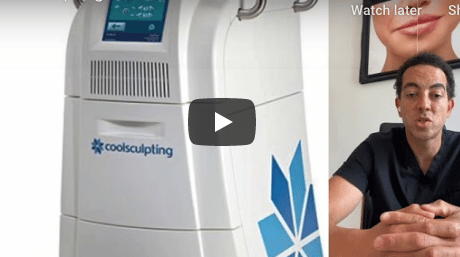 At Amara we have a dedicated CoolSculpting Suite.

We have a dedicated CoolSculpting suite at Amara Clinic. The suite is comfortable, air-conditioned and discreet. We also have TV complete with Netflix so you can "Netflix and chill" your stubborn pockets of fat away. Many patients to do multiple treatments in the one sitting, which can take a few hours. But in the confines of our deicated CoolSculpting Suite you'll be well taken care of as you start your 360 degree body transformation.