Platelet Rich Plasma (PRP) Essentials
Area Treated:
Face, neck, hands, decolletage, hair, acne scarring, hair and stretch marks
Assessment:
A consultation is required. Here the doctor or skin health specialist will run through all thoughts and considerations regarding your treatment.
Treatment:
Blood is drawn and prepared. A series of injections using your PRP preparation.
Time taken:
PRP preparation time 30 mins, treatment time 30 mins.
Comfort:
People rarely report this treatment as uncomfortable
Results seen:
Noticeable soon after treatment but best results seen a month after completion of your course.
How long will it last?:
This is highly dependent on the area being treated and the patient's reaction to the treatment.
The Vampire Facelift
At Amara, Platelet Rich Plasma (PRP) is a versatile treatment option which can address many patient concerns. As it uses your own blood, it is a particularly sought after treatment among patients who do not want to introduce foreign substances into their body but still wish to address the appearance of fine lines and wrinkles.
PRP treatment is commonly called 'The Vampire Facelift' because it uses the patient's own blood.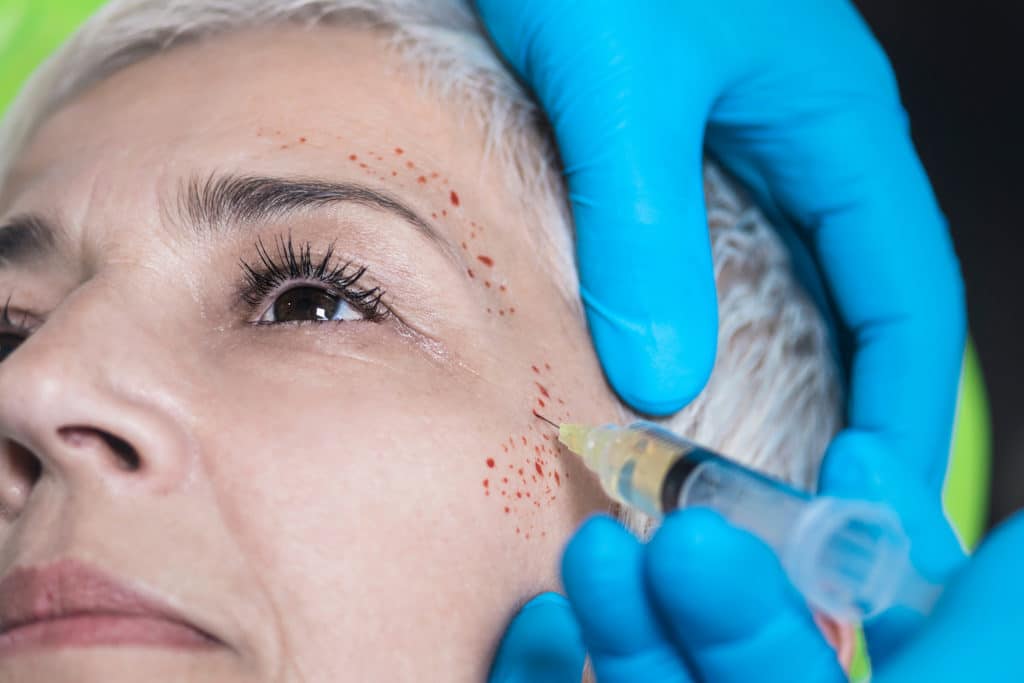 What is PRP treatment?
PRP involves drawing your blood and spinning it down in a process known and centrifugation. This separates your blood into different layers one of which is very rich in platelets and growth factors. Thesehave natural healing properties and can be injected around the face to promote facial rejuvenation of fine lines and wrinkles.
How does PRP work?
To begin treatment our doctor will draw 30-60 mls of your blood depending on the treatment you are seeking. This will be used to make the PRP preparation that will be injected to address your concerns. The blood is drawn using the exact same method as undertaking a blood test.
Your blood is spun down (centrifugation) and the platelet rich plasma containing growth factors is extracted and activated using a high quality kit – your PRP preparation is complete.
The preparation is taken and used in your treatment which will involve a series of injections designed to address your concerns.
It is the powerful growth factors in the preparation that stimulate and promote collagen and keratin production. These components restore structure, strength and volume to the area treated.
What can you treat using PRP?
PRP has been used extensively in regenerative medicine for years. At Amara we use it to help patients with the following concerns:
Fine lines and wrinkles around the face
Crepey skin of the neck, hands, decolletage
Stimulate hair growth
Skin elasticity improvement
Skin texture improvement
Skin tone
It is also possible to address acne scarring, hair thinning and stretch marks with PRP.
What are the benefits of PRP over other treatments?
The main reason people select PRP treatment over conventional dermal filler treatments in facial rejuvenation, is the fact that the preparation is made from your own blood and therefore no foreign body is introduced.
In studies that compared PRP facial rejuvenation results with ready made – growth factor mesotherapy treatments, the results of a PRP treatment were maintained over a longer period of time post-treatment.
PRP Procedure:
Can I receive PRP treatment and anti wrinkle injections?
Yes. PRP can be used along with anti wrinkle injections and dermal fillers.
Is there downtime? What do I need to do after a PRP treatment?
There is the usual redness, swelling, and possible minor bruising associated with any treatment involving injections.
The treated area should be kept from the sun and protected with an SPF. It is also recommended that you keep the area clean for 24 hrs.
How many treatments will I need?
A single treatment is possible but most people are recommended a course of 3 sessions with a gap of 4 weeks in between each treatment.