Lip Filler Essentials
Area of concern:
Thin, thinning, flat, disproportionate or asymmetrical lips
Assessment:
Our doctors will examine the natural presentation of your lips, assess their proportions, the level of their projection, their definition and overall shape
Treatment:
High quality dermal filler injections. The amount required is dependent on what you want to achieve and we selected from 3 specialist dermal fillers that are FDA approved for use in the lips
Time taken:
Assessment 10-15 mins, Treatment time, 20 mins
Comfort:
We use products which contain an anaesthetic
Results:
Immediate. Some swelling will occur but this resolves within a day or two in most cases.
How long will it last?:
This is highly patient dependent but our prefered product is FDA approved and licensed for up to 12 months. However, because you move your lips so much we say 6-10 months.
Cost:
€500
Welcome to our Lip Filler page!
Welcome to our lip filler page! The 2nd most visited page on our website after anti-wrinkle injections.
At Amara, lip filler treatment is the most common specialist dermal filler inquiry we receive. This isn't surprising when you consider the lips are one of the first things that people notice when they look at our face.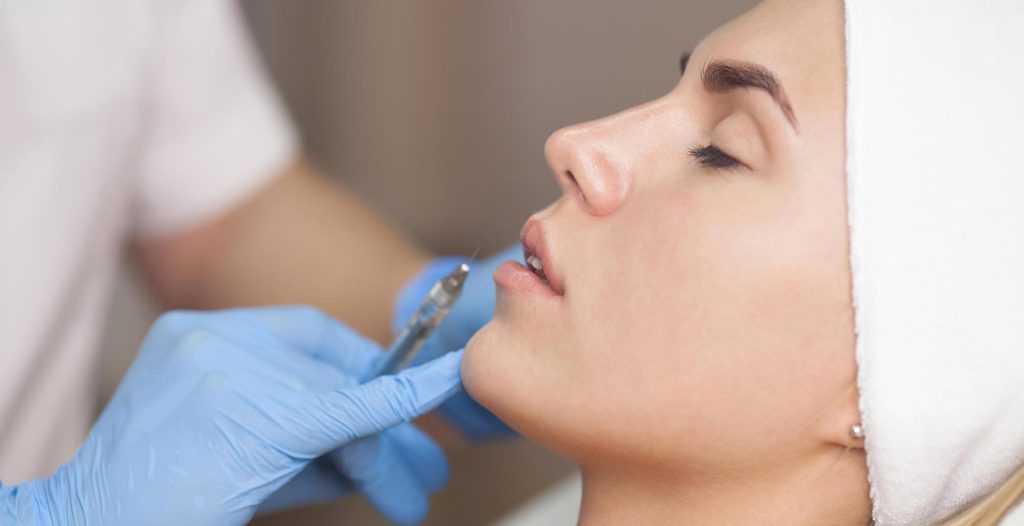 What is the aim of a lip filler treatment?
A lip filler treatment can have a number of aims depending on your concern. The aim may be to –
Enhance lip volume
Correct an asymmetry
Correct thinning lips
Add definition
Add a cupids bow
Rebalance the top and bottom lip
Without exception however, the aim of a Lip Filler treatment at Amara is to enhance the appearance of your lips.
Are lip fillers safe?
A lip filler treatment never comes without risk. Even if the doctor has performed thousands of similar procedures, the risk is still there that a blood vessel might be blocked, or that your lips may suffer a reaction to the foreign body being injected into them.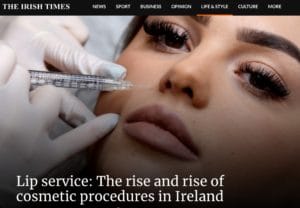 We highly recommend you read this expose we were involved with for the Irish Times where we discuss safety around lip filler treatments. What you should look out for when deciding where to go to get fillers includes –
1 Check with your vendor whether the filler they use is FDA approved. FDA approval attests to safety and efficacy. Ask to see the packaging if you are unsure. Cheap, untested fillers are readily available online and un-qualified people are injecting them in Ireland today.
2 Avoid deals and discounts. FDA approved lip fillers and the expertise to administer them safely are expensive. If a deal seems too good to be true, it likely is.
3 Be wary of any vendor who looks to administer fillers without a separate consultation in advance.
4 Choose a vendor with a set location, such as a clinic. Avoid vendors who do not have a permanent address, website or will be unavailable for follow-up questions or concerns.
5 Check the practitioner's qualifications – if they're not a registered doctor or nurse we would avoid that venue. In Ireland, anyone can inject lip filler but in Ireland only a doctor can prescribe and adminster the dissolving agent in the event anything goes wrong.
Here's a word on our treatment philosophy in the 'social media and influencer age'.
Why do people seek a lip filler treatment?
The lips are a focal point of the face and as such, having balanced and well defined lips adds to our overall look.
As we age, our lips thin due to volume loss that occurs naturally. This can lead to a loss of features of the lips you might once have had. Lifestyle choices can also have an adverse effect on our lips with smoking having a particularly negative effect not only on lip volume, but also the condition of the skin around the lips.
For other patients visiting Amara, genetics is the reason behind their thin or differently shaped lips.
What do balanced lips look like?
Balanced lips sit in direct proportion to themselves but also other facial features. It's important to remember that your lips are 3-dimensional so our doctors are thorough in their assessment, taking into account what they look like from 3 perspectives. This instructs them as to how best to treat your lips.
The first perspective is front on, the second is profile and the third is what's called an oblique view which is a 45 degree angle. By assessing your lips from these 3 perspectives, our doctors can design bespoke treatments for you.
What proportions are important for lip filler treatment?
The Golden Ratio, or 'Phi', is commonly found in nature. It is a distance based ratio found all over your body, from the feet and legs to hands and arms.
The Golden Ratio ideal says that the width of your top lip should be ⅓ of the total width of your lips. Therefore, the bottom lip should be ⅔ the width of your total lip width. The precise ratio is actually 1 : 1.618.
If these proportions are met, the lips are said to have a well balanced and attractive appearance.
How should my lips project?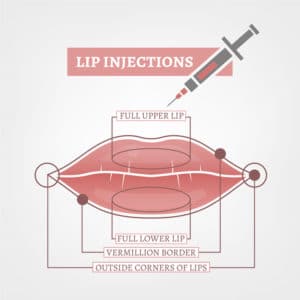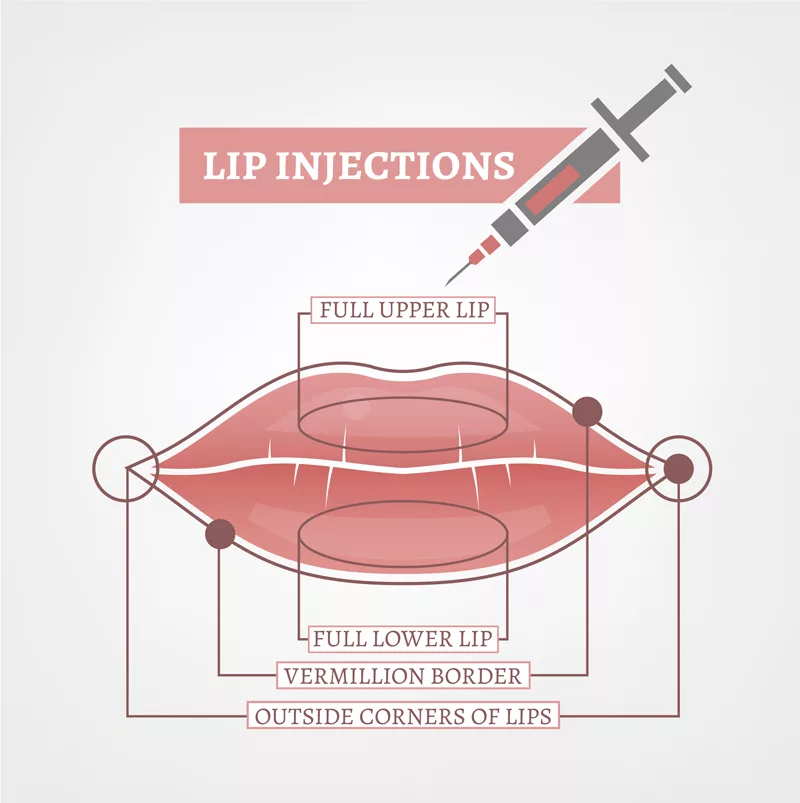 The projection of the lips is an important contributor to their overall appearance. The 'Steiner Line' is used to measure the degree of projection of your lips.
The Steiner Line is an imaginary line from the middle of the soft tissue of your nose directly down to the chin. How your lips project toward the Steiner Line is another measurement that allows our doctors to balance your lips. Slight over-projections can be curled back while under-projections can be filled out so both lips rest along this line.
The 'Ricketts Line' is another line sometimes used by aestheticians to assess the projection of your lips. It runs from the tip of your nose to your chin and balanced lips project toward this line in a certain way – the top lip should sit further away from the Ricketts Line than the bottom lip.